Everybody loves money. What would you do if you win $100? Enter stash cash contest below to win Paypal cash or Amazon Gift Card.
Welcome to the 
$100 Stash Cash Giveaway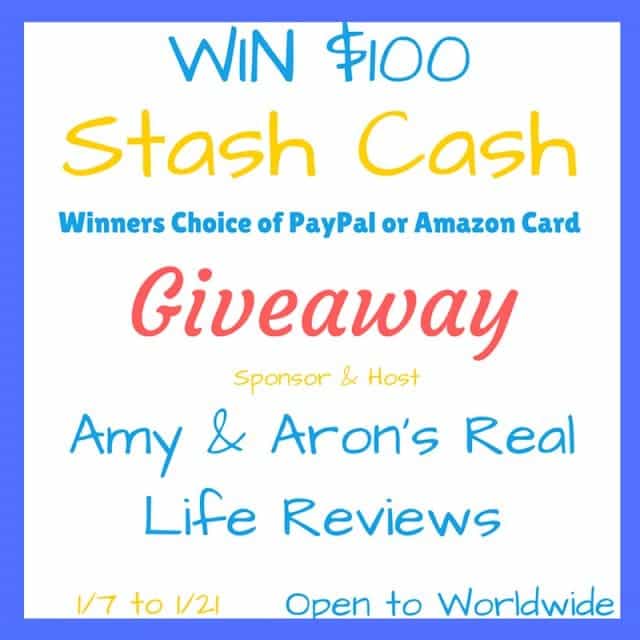 Winner's Choice $100 PayPal or $100 Amazon Gift Card
A special shout out to our Co-Hosts 
Deliciously Savvy, IMHO Views Reviews and Giveaways, Momma Without a Clue, Candy Crush & Snowman Butts, 
Michigan Saving and More,
Heartbeats ~ Soul Stains,
24/7 Contests, PaulaMS' Giveaways, Reviews, & Freebies, 
and
Animal Bliss
Amy & Aron's Real Life Reviews would like to thank all of our amazing readers. Without you, these awesome giveaways wouldn't be possible. We are sponsoring this giveaway to show our appreciation for the way you have treated  us since the beginning. This has been an awesome adventure! 
Here's to an amazing 2017!!
Now for the fun stuff. This giveaway is open to WW. There are daily bonus entries so please check back tomorrow. Share it with your family and friends, they'll want to enter to win too!!
I can't ask you to "Like" our pages but, if you see something you like, let us know so we can bring you more of it.
We LOVE it when you "LIKE" our pages.
If you have any questions about this giveaway,  reviews, or any of our other giveaways, please feel free to email us directly at grovesamy81@gmail.com or amy@aarlreviews.com
Disclaimer: Work Money Fun is not responsible for prize fulfillment. Sponsor is responsible for awarding prize to the winner of stash cash giveaway.