Thanksgiving is coming. And we want to thank all our readers by giving you a chance to win prizes from different brands during our 12 Days of Giveaways.
Savings.com is excited to announce that their 12 Days of Giveaways are back! Every weekday from Monday, November 6th – Tuesday, November 21st, they'll be giving away at least one $250 gift card prize from one of their partner stores, for a total of $4500 in prizes!
For a chance to win, all you need to do is visit the store's page on the day of their giveaway and enter your email address in the form at the top of the page. If you're the winner, they'll contact you via email on Wednesday, November 22nd! If you're not the winner, many of their partners will be providing great offers to those who enter.
#SDC12Days – 12 Days Of Giveaways
Starts Weekdays from Monday, November 6th at 12:00 AM ET to Tuesday, November 21st at 11:59 PM ET. Open to US, 18+ years of age.
At least one (1) winner will receive a $250 gift card from a different store on each day of the giveaway campaign.
Enter the giveaway by heading to the merchant page and submit your email address in the form at the top of the page.
The winners will be chosen through a lottery drawing and notified on Wednesday (11/22) via the email address used to enter.
Official contest rules can be found on the entry forms at the top of each store's page on Savings.com on their designated day.
Bookmark this page and come back each day to check that day's giveaway!
NOVEMBER 6 – HP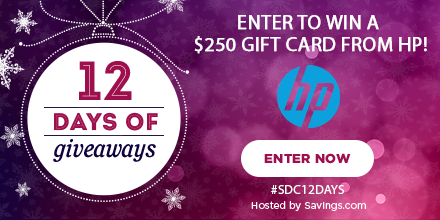 NOVEMBER 7 – VERIZON WIRELESS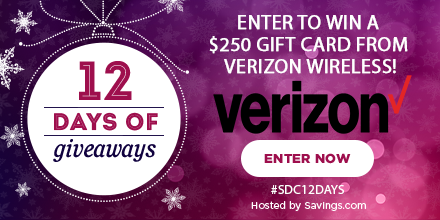 NOVEMBER 8 – JUICE BEAUTY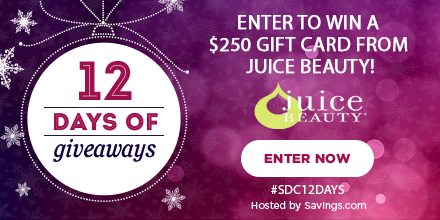 NOVEMBER 9 – SHINDIGZ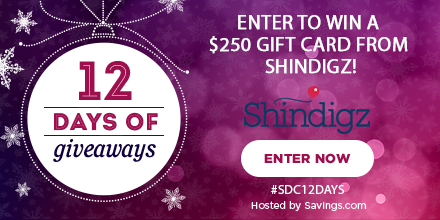 NOVEMBER 10 – OVERSTOCK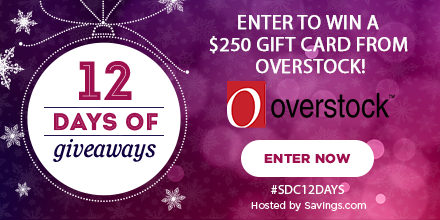 NOVEMBER 13 – ZALES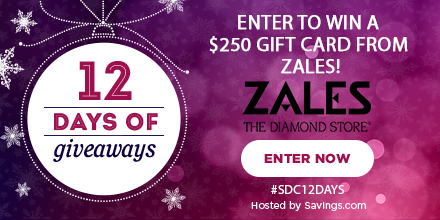 NOVEMBER 14 – PAPERMART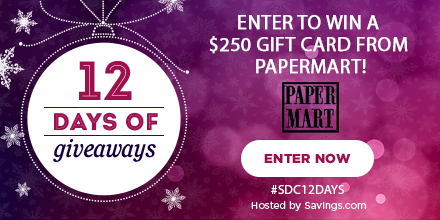 NOVEMBER 15 – MACY'S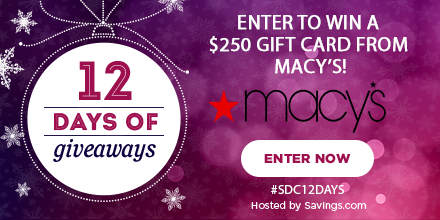 NOVEMBER 16 – FITFLOP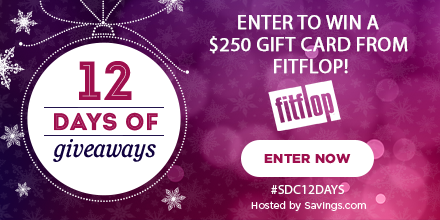 NOVEMBER 17 – HOME DEPOT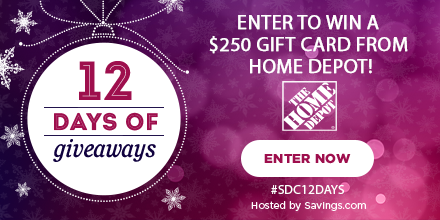 NOVEMBER 20 – OLD NAVY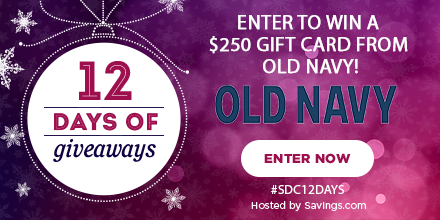 NOVEMBER 21 – GAP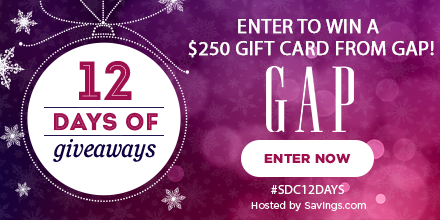 Disclaimer: Work Money Fun is not responsible for prize fulfillment. Sponsors are responsible for awarding prizes to winners of 12 Days of Giveaways.