Clean leather and fabrics inside your vehicles with AutoRight SteamMachine. Enter sweepstakes below to win a steam cleaning machine.
Welcome To Our AutoRight SteamMachine Giveaway~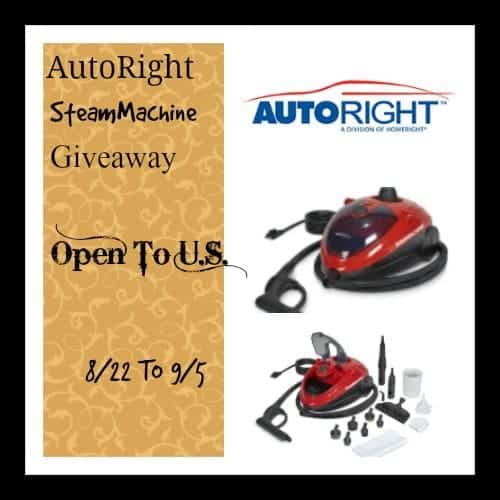 And
If you have a car, boat or RV, The question is -How are you going to clean it. It is a common fact that steam cleans and gets rid of 99.9% of germs. Why would you want to clean any of these with anything but a steam machine? What? You say yours is too big? This is why you need to enter this giveaway because the AutoRight SteamMachine was built just for small places. It is much smaller than the others and fits perfect in things like cars, boats and RVs. You can read Tammie's review and her thoughts on it by going HERE.
Onto The Giveaway~
1 reader will win an AutoRight SteamMachine rv $130

This giveaway is live and will end on 9/5 at 7:00 p.m.

Winner will be chosen at random, Notified within 48 hours and have 24 hours to respond to the email to claim their prize or another will be chosen

Must be 18 years of age to enter

Void where prohibited by law

All entries will be verified
Enter Below and Good Luck to You~