How to become a Stylist?
**This post contains affiliate links and I will be compensated if you make a purchase after clicking on my links.
Do you want to be a top personal stylist and be your own boss? If you are thinking about your career and wondering how to become a stylist, we are taking you one step ahead to fulfill your passion for style!
Love Stella & Dot jewelry and the idea of earning extra income? Well then you should consider becoming a Personal Stylist with Stella & Dot! While we all love home decoration, jewelry (and money!), being a Stylist is about so much more. It's about having the freedom to style your own life and truly enjoy your work. If any of those things intrigue you, then October is the month for you to pursue your passion for style.

From now through November 2nd, anyone who signs up to be a Stella & Dot Stylist will receive an extra $100 in jewelry and accessories as a bonus. You'll also get …
A fabulous business to call your own
The ability to work from home and earn extra income sharing the jewelry that you love with others
Training and support from amazing and successful women
Free jewelry, as well as significant discounts
Expense paid vacations
A personal website and online business center
and much, much more!
To learn more about how to become a stylist and sign up, go to https://www.stelladot.com/stylist. It's never too late to style your life the way you want it.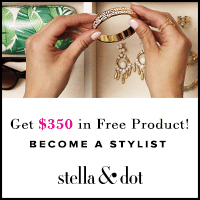 Get Up to 50% Off at Stella & Dot
I've got some intriguing news to share with you! On 10/26, Stella & Dot will run a fun Facebook vote to see which of their select products are fan favorites. Then, the items deemed winners will be discounted up to 50% off starting at 6:00AM PST on 10/27 until 9:00PM PST on 10/28! Here are the details:
On 10/26, you will be able to vote on Facebook for which pairings of SKUs you think should be discounted by 30%, 40% and 50%.
Then, on 10/27 at 6:00AM PST, the winners will be announced via Facebook and the SKUs will appear with their discounts under the Sale category on Stella & Dot!
But like the carriage turning back into a pumpkin, prices will revert back to their original prices on 10/28 at 9:00PM PST. So you'll want to take advantage of this short-term sale while it lasts!
There are no exceptions to this promotion and it's only while supplies last.