New Summer Style from Kohl's !
For this summer, Kohl's has offered a new coupon code to save on purchase of $30 or more! Checkout the new summer style apparel and other items!
Deal Details:
Take $10 Off Your Purchase of $30 or More
Promo Code: MAYSAVE10
Free Shipping on Orders $75+. Restrictions may apply.
5/22/15 through 5/25/15
#KohlsSummerStyle Giveaway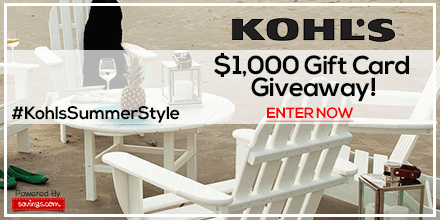 We're kicking off Memorial Day Weekend with a $1,000 Kohl's gift card giveaway! 20 winners will receive a $50 gift card to Kohl's!
Giveaway Details:
Starts from Thursday, May 21st at 12:00 AM ET to Sunday, May 24th at 11:59 PM ET.
Twenty (20) winners will receive a $50.00 gift card to Kohl's.
Users can enter the giveaway by submitting their email address on the form at the top of the page.
The winners will be chosen via a lottery drawing and notified on Tuesday (5/26) via the email address they used to enter.
See complete Official Rules for entry instructions, full prize descriptions, restrictions and other important details.
Disclaimer: Work Money Fun is not responsible for prize fulfillment. This post contains affiliate links and I will be compensated if you make a purchase after clicking on the links.