Welcome to the UpWeeGo High Chairs and Amazon Gift Cards Giveaway!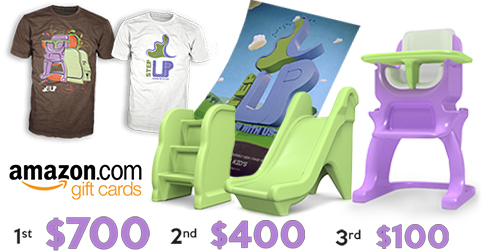 Are you searching for High Chairs or Slides for your child? We are having a Giveaway here for you to win these items!
UpWeeGo is kicking off their Kickstarter on April 28th! So be sure to follow along and join in. Their high chairs are simply amazing. No more worries about not being able to clean every spot. This one will wipe down easy peasy. It also has some incredible steps and slide attachments. So when your child is older, they can climb up on it themselves and sit down with the family.
"Highchair Inventor Dad says Step on UP!"
Heading to the dinner table for most toddlers and young kids usually involves a boost or climb to get seated. Raphael, a father of three decided it was time to change this.
A simple kitchen stool helped Raphael form an idea that obtained a US patent. Most booster seats and high chairs create a challenge for kids attempting to seat themselves. The Step Up chair fixes this by allowing kids to easily seat themselves. Its sturdy construction and modular shape with no parts to assemble make it a welcomed addition to the highchair world."
Be the first to know about the KickStarter KICK STARTER LAUNCH
I mean check out all these color options?

A high chair that will grow with your child and last! Meal time to play time!
Check out the 360 degree pictures and everything it offers HERE . They also have a really great recycling program so check them out.
Yes, UpWeeGo is hosting a giveaway for an amazing product. You can enter the giveaway on their website HERE. Or use the rafflecopter below to enter. They have some really big amazing prizes. KICK starter signup  HERE
Grand Prizer Gets….
Step Up Chair With ALL attachments, $200 Amazon Gift Card, T-Shirts, and Poster!
2nd prize includes $100 Amazon gift card and everything too less the slide!
3rd prize is a $50 Amazon gift card, t-shirts and our 3D Poster!
If you win or not! IF you want one! Get ready for the kickstarter because it's coming and after it you won't find a better deal!
Open to Continental US, 18 years or older. The company will be choosing the giveaway winners with the form and you will be contacted by them if you do win.
Disclaimer: This blog did not receive any compensation for participating in the high chairs giveaway and is not responsible for prize fulfillment.