Building a website can be incredibly challenging and, let's be honest, boring at times.
You want your website to stand out but don't want to spend months putting it together. It must be functional, user-friendly, and engaging enough to attract visitors.
Numerous WordPress themes can help you build your website. But when making a choice, you need to be sure the theme can cater to your requirements.
Well, the Kadence theme for blogs and e-commerce sites has everything you need—and so much more!
This article will go over everything there is to know about the theme, so you can see why it's preferred by website owners worldwide.
Why Kadence is the Best WordPress Theme for Blogs and Ecommerce?
Kadence is a WordPress theme from StellarWP. StellarWP, which is a part of the Liquid Web family of brands, is a collective of WordPress innovators like iThemes security & backup, IconicWP sales boosting WooCommerce plugins, GiveWP donation plugin, Restrict Content Pro membership plugin, LearnDash learning management system, and The Events Calendar tools.
Kadence specializes in developing WordPress themes for people looking for efficient and effective website designs.
They have been in the business long enough to know exactly what people want from a WordPress theme. This expertise allows them to optimize features and cater to various business owners.
Whether you want to set up an e-commerce site or a blog, the Kadence themes can help you achieve your goals with their versatile themes. These themes can be integrated with page builders like Gutenberg, Elementor, Beaver Builders to build custom layouts and craft content with Kadence Blocks.
Kadence WP provides extra bundles with their additional toolkit and plugins to grow your eCommerce revenue by boosting sales and engaging with customers.
Before diving into the theme's features, let's take a closer look at what Kadence offers.
User Friendly
The Kadence theme is surprisingly easy to use, regardless of your knowledge or skill level in building websites. It is intuitive, allowing you to follow a few simple steps to create a stunning website.
The theme comes with several options for free and paid starter templates that give users a great idea of what their website can look like. For a new blog, free WordPress theme template is a good option to test.
Light-weight and Fast
In this age of instant gratification, website speed matters more than ever. Kadence's clean code and light-weight design guarantee fast loading times, enhancing user experience and boosting SEO for SERP rankings.
Excellent Customer Support
Kadence is known for its efficient customer support. If you need help navigating the theme, you can reach out to them and have the issue sorted out immediately.
Creating your perfect website is their mission; they see your satisfaction as their victory.
Use on Unlimited Sites
Kadence does not limit the use of its theme to one site. You can use their theme on unlimited sites if you purchase it once.
This is a huge bonus, as you can use the same theme but still create a unique design for all the sites you manage.
30-Day Money Back Guarantee
Kadence knows their WordPress themes are the best. This is why they offer a refund if any of their customers are unsatisfied with the product.
All you have to do is contact them within 30 days of your purchase, and they will refund your money without question.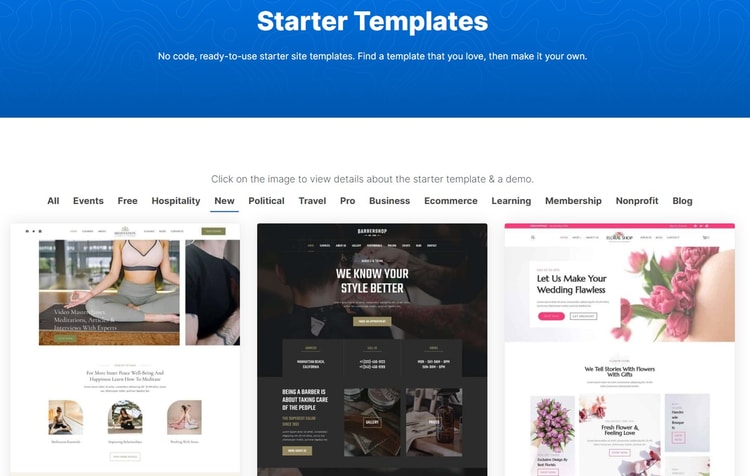 Features of the Kadence Theme
Besides the appeal of Kadence as WordPress experts, their themes also have multiple features that appeal to website builders.
They include fun, modern features without impacting website speed or functionality.
In fact, Kadence prides itself on providing an optimized website with exceptional performance.
Your website can be built in three simple steps.
Select a starter template suited to your website, pick your color scheme, and then choose your fonts.
Let's look at some of the best features of the Kadence theme as the most popular WordPress ecommerce themes 2023 for e-commerce sites and blogs.
Header/Footer Builder
This builder has a simple drag-and-drop interface, making it effortless to work with. It helps you create the perfect header and footer for your website.
You don't have to spend time making sure everything is in the right place because you can have it exactly where you want!
Custom Layouts
Here's the best news: you are not limited by a set layout!
With Kadence, the layouts can be fully customized, meaning you can even choose the width of the sidebar.
Global Color Palette
The global color palette makes it easier to choose a color scheme and apply it to your entire site.
The Kadence themes come with 12 pre-set color palettes, so you can pick the one that best suits your website.
Global Typography
The global typography feature allows you to choose from any Google or Web Safe font. You can customize everything, from sizes to styles, giving you complete control over how each page of your website looks.
Similar to the global color palette, there are 12 font pairings to choose from.
Global Button Settings
Buttons on a website should be attractive and functional. With the Kadence theme, you can make the perfect buttons for your website and use them everywhere.
Social Links
A website is not complete without links to your social media pages.
The theme lets you add all your social media buttons to your headers and footers in just a few clicks.
Accessibility
Another thing Kadence includes in their theme is accessibility considerations. This means you can customize your website for access from different devices.
As a result, your website can be accessed from a computer, mobile device, or tablet and still provide a great user experience.
Breadcrumbs
The Kadence theme also lets you activate breadcrumbs. There's a built-in breadcrumb generator engine, or you can use an SEO plugin.
The choice depends on what you are most comfortable working with. Breadcrumbs are a great asset to any website and help Google better understand how your website is structured.
SEO
Many people consider Kadence the best WordPress theme for blogs and ecommerce because of its SEO practices. This theme makes sure only the best SEO practices are used for your website's design.
This is why the theme does not slow down the performance of your website. In fact, it can actually help improve the overall speed of your website.
Comparison to Other Themes
To understand why Kadence shines as the best WordPress theme, let's compare it with five other popular themes: Astra, OceanWP, Divi, GeneratePress, and Avada.
Kadence vs. Astra
Astra is known for its speed and performance, but Kadence has its own set of advantages. While Astra excels in performance, Kadence offers a perfect blend of speed and customization options, making it a great choice for users looking for more design flexibility. It's all about finding the right fit for your needs, and Kadence has definitely got you covered!
Kadence vs. OceanWP
OceanWP platform offers a wide selection of pre-built demos, but Kadence counters with their super intuitive interface and user-friendly experience. Kadence gives you the flexibility to create a completely one-of-a-kind website with ease that perfectly reflects your unique style and vision.
Kadence vs. Divi
Divi is a widely used theme with a powerful page builder, but Kadence surpasses it in terms of site speed and performance. For users prioritizing website loading times, Kadence's lightweight design becomes a decisive factor.
Kadence vs. GeneratePress
While GeneratePress is definitely a fan favorite for its simple and clean design, Kadence takes things a step further by offering a wide range of customizable blocks, headers, and footers. This means that you can really let your creativity shine and create a website that's uniquely your own. Whether you're a seasoned pro or just starting out, Kadence is a fantastic option for anyone looking to design a website that stands out from the crowd.
Kadence vs. Avada
Avada is a popular theme with a massive user base, but Kadence stands its ground by offering faster load times and a more intuitive user interface. Kadence also seamlessly integrates with page builders, making it an even more appealing option.
FAQs
In Summary
The Kadence theme for websites is popular among many businesses and site owners. It's different from other WordPress themes because it's easy to use and because of how well it works technically and in real life.
The development of the theme took multiple perspectives into consideration. This is why the Kadence WordPress theme is one that website designers and users can appreciate, and it is one of the top 5 WordPress eCommerce themes 2023.
It doesn't only look good; it also ensures that your website works at its full potential!